Quick Setup Guide
To install your new theme you must have a working version of WordPress* already installed.
For information on how to install the WordPress software, please visit WordPress Codex – Installing WordPress.
You can install Marlin lite WordPress theme through your WordPress dashboard, like you would do with any other WordPress theme.
Quick Installation
1. via FTP: Upload the theme folder to your "/wp-content/themes/" directory.
2. or via WordPress: Go to your WordPress dashboard and select Appearance -> Themes. Click 'Add New' theme and upload the 'marlin-lite.zip' file on theme package.
3. Click Activate to use your new theme right away.
In case you are new to WordPress, you can find instructions regarding the theme installation in this tutorial: Using Themes in WordPress.
Quick note
This theme required WordPress 4.1+. It's highly recommended that you have the latest version of your WordPress installed.
---
Set the Menu
1. Go to "Appearance > Menus"
2. Select "create a new menu" at the top of the page.
3. Enter a name for your new menu in the Menu Name box.
4. Select the "Pages" or "Categories" by clicking the check box next to each "Pages" or "Categories" that you want to include in the menu.
5. Click the "Add to Menu" button located at the bottom of tab to your menu.
6. Click the "Save Menu" button.
Note: if you want a new menu just click "create a new menu", then you can move the items from the left side. At the bottom "Menu Settings > Theme locations", checklist "Primary Menu" and "Save Menu".
Add the About Widget
1. Go to Media > Add New
2. Click on "Select Files"
3. Upload a square image of you. (Ideal size 250x200px)
4. Click on "edit"
5. Copy the link from "File URL"
6. Go to "Appearance > Widgets"
7. Move/ drag the "[Marlin] About Widget" to the Sidebar
8. Paste the url in the "Image URL"
9. Write a text in "About Description"
10. Add the url of your about page
11. Click on "Save"
Add Featured Post
Featured images also known as post thumbnails are a popular feature in WordPress themes.
Simply create a new post and scroll down a little to see if there is a meta box called featured images on the right hand side of the screen.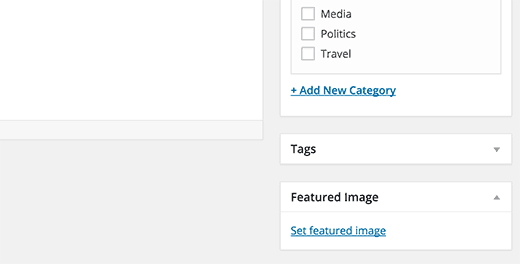 To add a featured image in a WordPress post, simply click on "Set Featured Image" link inside the featured image meta box shown in the screenshot above.
This will open the WordPress Media Uploader. You can use that to upload an image from your computer or use an existing image from your media library. Once you select the image, simply click on Set Featured Image button.
Ideal Image size: Minimum 800x533px (width:800px – height:533px)
Customize/ Theme Customizer
Color Settings
You can change the colors of sections: Color Scheme, Header Text Color and Background Color.
---
Contact Page
The theme not included a "Contact" page template with an additional sidebar to display a different sidebar on your contact page than on other posts and pages. Marlin lite Theme also supports the popular plugin "Contact Form 7" to easily create working contact forms with only a few clicks. Please read this to learn more: How to create a working contact page in WordPress.
---
Additional Features/Options
If you have followed the above mentioned steps of this documentation, you have completed the basic theme setup of Marlin lite WordPress Theme. Now you can start creating amazing content.
---
Upgrade to Marlin Premium
If you would like to have more features and options, you can upgrade to the premium version and benefit from more awesome features and excellent theme support.
Configure your own news website or blog within a few minutes and benefit from endless possibilities to customize your website. Learn more about the premium version of Marlin WordPress Theme.